December 16, 2022 , Maggie Mullan
November mornings in Cergy, just a few miles northwest of the French capital, can be very foggy. Standing in the hangar at the Groupe ADP Pontoise-Cormeilles aerodrome, I had the perfect view as the fog gradually rolled back to reveal the Skyports European testbed vertiport with the Volocopter aircraft by its side. The inauguration event for the testbed that day would welcome hundreds of visitors who heard presentations, watched a test flight, and toured the terminal facility. That cold morning in France painted a clear picture of the concrete progress that the AAM ecosystem has made throughout 2022 and is a sign of the opportunities that await us in the 12 months ahead.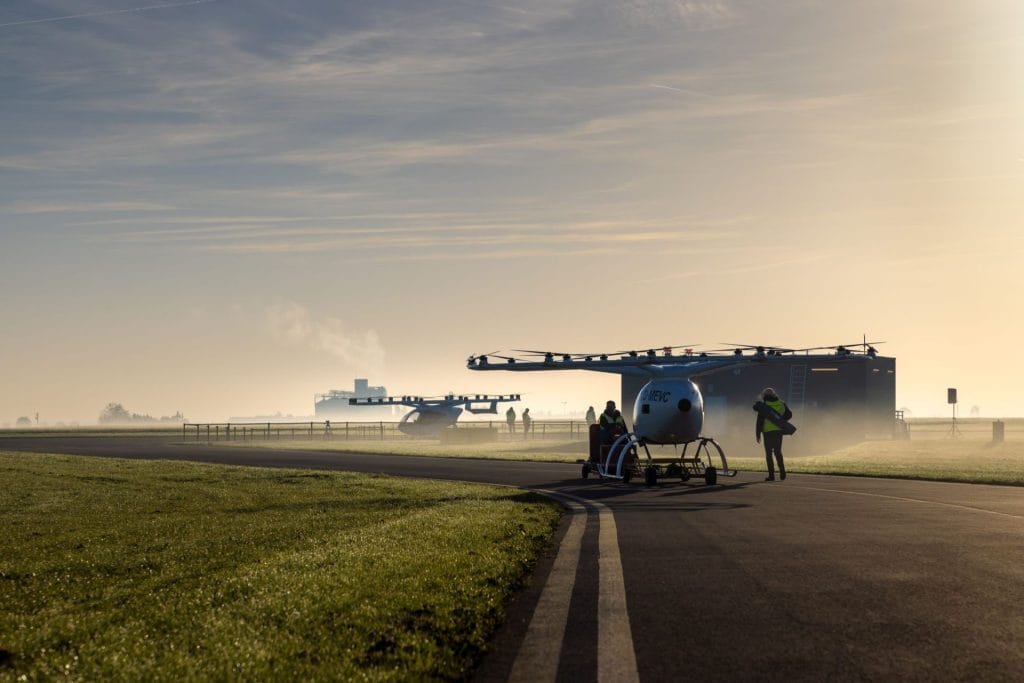 As the year draws to a close, I want to reflect on Skyports Infrastructure's 2022 efforts. Above all, I am humbled by the hard work and dedication of the Skyports team and our partner organisations.
At the corporate level, Skyports took a big step forward by closing our Series B round with $26M in funding. This capital enables us to continue building the team, refining the vertiport product, and preparing markets for launch. In addition to our existing shareholders reaffirming their commitment to Skyports' mission, we brought on new investors who contribute valuable strategic support: Kanematsu Corporation, Goodman Group, GreenPoint, Ardian, F2i, and ST Engineering.
Our team has grown considerably this year – in number, in scope, and in capability. We opened up new offices in Dubai and Japan, demonstrating our commitment to those important markets. We added to the team in every key technical discipline we cover – vertiport planning, airspace, electrification, operations, technology, regulations, real estate development. Furthermore, we experienced a surge in product development progress as our team executed tangible projects and collaborated with OEMs, regulators, and other technology providers.
We place a high value on learning and advancing the industry with real-world projects. 2022 was a year for real progress:
Progressed towards commercial launch of the world's first vertiport in 2024 in Singapore
Initiated operations of Skyports London Heliport, one of two commercial heliports in London, to build operational experience, test technologies and procedures, and form a node in the future vertiport network – read more
Won a grant from the UK government's Future Flight Challenge for the Advanced Mobility Ecosystem Consortium (AMEC), made up of leaders in UK aviation and engineering, which will develop and demonstrate the building blocks of an AAM ecosystem, including building and testing a vertiport – read more
Launched the Joby x Skyports Living Lab in California to test vertiport technology and showcase the concept to stakeholders in local markets as the structure tours the US – read more
Inaugurated our European vertiport testbed in partnership with Groupe ADP, with the intention to evaluate vehicle integration, flight scheduling, critical technologies and passenger journey – read more
Expanded our involvement and leadership with regulators and in industry bodies such as GAMA, as demonstrated through the release of several letters and white papers
It was encouraging to witness the industry as a whole make advances this year. Increasingly, aviation incumbents are getting involved in AAM. We saw more flight testing across OEMs than ever before, evidence of the industry's building momentum. Both the FAA and EASA released vertiport design guidance, demonstrating their willingness to take a forward-leaning posture towards the industry.
Like that November day in France, the fog is lifting on some of the unknowns in the AAM industry. The importance of well-located, well-designed, and well-operated vertiport infrastructure is becoming increasingly apparent. Looking ahead to 2023, the Skyports team is eager to continue advancing our mission of supporting our customers through the build-out and operation of vertiport networks.
On behalf of the entire Skyports team, thank you to all of our collaborators in government and industry for your partnership. We look forward to making progress together in the new year.